Not only do I now understand how difficult it is to keep your kids healthy in general, let alone when they are at child care, but it is amazing how much more attention you pay to the products you are using in your home once you've had kids. Suddenly, the 'wipe down with water after use' products don't seem so appealing when your kid is licking the floor (yep, that's my child!).
And I thought looking after a husband with man flu was hard? Urgh – sick kids is the absolute worst. It is horrible seeing them so unwell, and there's also not a lot you can do!. Whether its because they're too young to take medication, or you are turned away from the doctors because it's viral (if I had a penny for every time a doctor told me that…), or you've just given them pain relief and are waiting out the next 4 hours until the next dose, it's bloody tough feeling so helpless.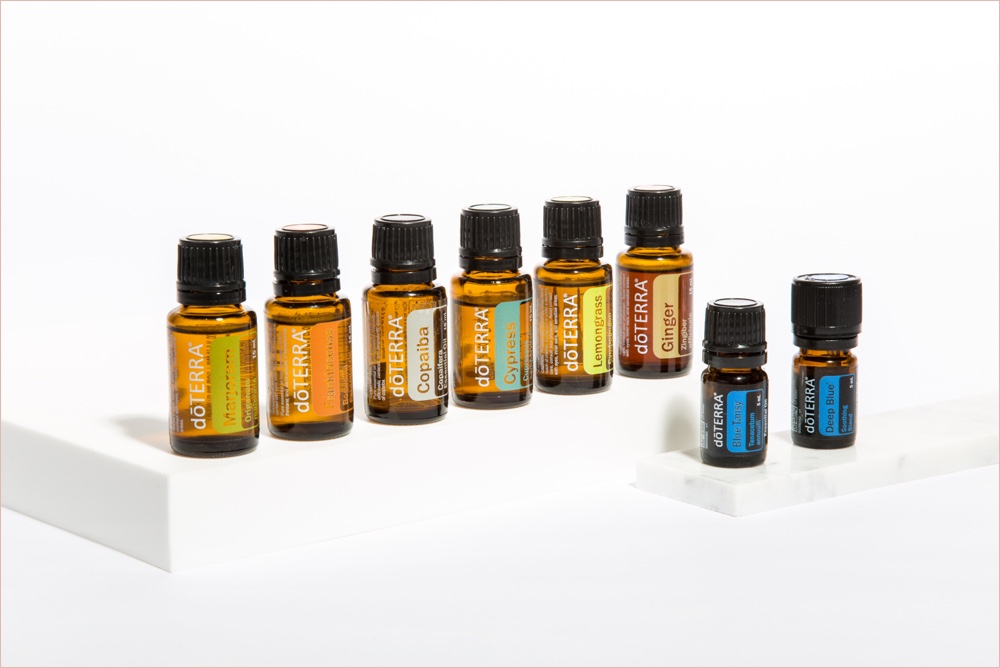 One of the big reasons why I am a complete convert and essential oil lover (ok I'm obsessed), is because I have been able to use them throughout the day and as an alternative to receiving the 'wait it out' speech. There is obviously a place for western medicine and of course, if we ever required it, we would proceed down that route. However, there are some things you can do when you receive 'that' speech.
Firstly, I don't use essential oils on Clementine's hands because she isn't quite at the stage where she follows instructions such as "don't touch your eye" or "don't put your fingers in your mouth". I also like to ensure that the essential oils I am using are 100% pure therapeutic grade. You can read more about this here.
I always dilute because Clementine's skin is much more sensitive than mine. The other thing to remember is that by using a carrier oil (I use Fractionated Coconut Oil, but there are others listed on my FAQ page), you are increasing the 'reach' of the oils (i.e. targeting a larger area) and they will absorb quicker into the skin and therefore the bloodstream and cells within the body.
Here is a short list of my go-to oils for Clementine:
(Tap the name to learn more)
On Guard
We like to diffuse whenever we aren't feeling quite like ourselves
I add a drop or two into my washing machine where the detergent goes.
We use a roller bottle on our feet every morning which contains On Guard, Arborvitae and Copaiba.
It is in the majority of my household cleaners (e.g. surface spray and hand spray).
This oil and Easy Air were the first two oils I ever used!
Easy Air
Seriously my fave oil!
Diffuse to feel clear and calm when breathing. I also like to use a blend of Easy Air, Frankincense and Lemon/Lime and roll onto Clementine's chest, back and the soles of her feet (with socks).
It also promotes a restful night's sleep so I love to put a few drops in the corner of the shower at night and diffuse too.
DigestZen
I have a complete phobia of vomit. So I don't know how I survived without this oil!
I like to rub this onto Clementine's belly with some Fractionated Coconut Oil to promote a feeling of satisfaction after food.
Think all things going out, nothing going out... you know. Either/or!
Lavender
Lavender is great for its relaxing aroma which promotes calm, relaxed feelings. Perfect to diffuse before bed for a peaceful sleep!
I like to make a room spray with other oils like Bergamot, Patchouli and Cedarwood and spritz that on Clementine's sheets and around the room before bed.
It is very soothing for skin so I use it in her DIY baby wipes too (which can also save you up to $800/year!)
Roman Chamomile
This is a fantastic oil for kids because it has a calming effect on the skin, mind, and body. Aka, soothes the body systems!
Because it soothes the systems of the body, I like to use it in an "all purpose" blend for whenever Clementine isn't herself, is rubbing her jaw and teeth, or having trouble sleeping.
I also like to use it on Clementine's skin.
Frankincense
There is a saying amongst us oil converts, and it is "when in doubt, use Frank".
Because of its ability to promote feelings of peace, relaxation and overall emotional wellness, it's great to use in the diffuser and a blend to help with just overall support.
It is also great for skin so similarly to Roman Chamomile, it's great to use in your blends!
I also like to massage it into the soles of Clementine's feet before bed.
Lavender Peace and Balance
I've included these together because in our house they go hand in hand.
Lavender Peace (or Serenity as it's called in the US) promotes a calm, relaxed environment, so it is perfect to use before bed.
It is very calming for the emotions so I like to use it if Clementine is a bit all over the place and needing some support.
With the addition of Balance promoting a sense of calmness and balance, it is the perfect combination!
Peppermint
Those 40 degree days mean a spray bottle with Peppermint sitting in the fridge! I also like to use it if Clementine is feeling a little warm.
I also like to diffuse it when #MumLife is getting me down!
Emotional Touch Kit Rollers
The best thing since sliced bread. Not even kidding!
Cheer promotes feelings of optimism, cheerfulness, and emotional wellbeing.
Peace promotes feelings of peace, reassurance, and contentment.
Console promotes feelings of comfort and hope.
Motivate promotes feelings of confidence, courage and belief.
Forgive promotes feelings of contentment, relief and patience.
Passion ignites feelings of excitement, passion and sense of joy (I use this a lot when I'm working).
The great thing about this kit is that there is something for everyone. Tom and I both respond really well to Cheer, whereas Clementine responds really well to Peace and Console.
Did you know you can create your own baby wipes using essential oils?
Enter your details and I will show you how